As of 1965, the TV musical variety show was a well-settled genre, just as the medical drama or situation comedy is today. It had its own set of rules and audience expectations. The formula was as such: Have a big name to serve as the center of attention, invite a few guest stars, have some onstage banter, cull some laughs from the studio audience, mix in some more-or-less related comedy sketches, musical numbers, and dance acts, and voila! Successful musical variety show.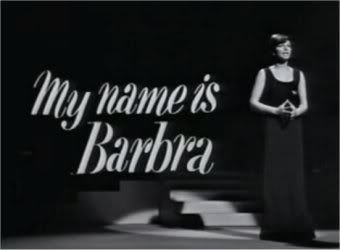 So, when the idea for My Name Is Barbra was pitched to CBS executives, the network was ambivalent. They had a number of misgivings: No guest stars? Focus entirely on a 22-year-old who had never headlined a television program before? Nix the audience and film outside of the television studio? String songs together without introduction in an extended montage, united only by concept? Isn't Barbra just a singer? You mean she can act, too?? No one had done anything like it before.
Furthermore, the hour-long experiment was organized into three acts, each with its own concept. The first focused on growing into womanhood, and the second was a target="_blank">comedic song medley. The target="_blank">third act was simply Barbra lit under a single spotlight before a studio audience, singing songs from her nightclub act and her musical Funny Girl. The songs ranged from blues, jazz, to ballad, giving her time and room to demonstrate her vocal range—from jazzy growl to Broadway belt to crystal-clear soprano. Though the sole focus, she engaged and captivated the camera. Everything was just her expression, the music, and her voice. By the end of the hour, it was undeniable that here was the greatest American entertainer of her generation.
What resulted from this gamble was critical and commercial acclaim, and an Emmy in Outstanding Individual Achievement in Entertainment. Barbra Streisand became an international superstar.
The purpose of raising My Name Is Barbra is not to propose a formula for David to achieve critical and popular acclaim. Sure, there are similarities between the two artists: an other-worldly voice, a gift with phrasing, the ability to shape one's voice to suit a variety of emotions and genres. Also, like Barbra, David thrives in live performance, must "live" in every song, and is loath to lip-sync or perform the same way twice.
But David is his own artist with his own set of strengths. (Some still yet undiscovered.) What makes My Name Is Barbra so enlightening is not the formula itself, but the readiness of Barbra and the musicians she worked with to focus the entire show on her and her strengths, and in the process to break the rules, not look back, and take a leap of faith.
target="_blank">
At the same time, My Name Is Barbra relied upon the strengths Barbra had already established four years into her career, as an actress, comedian, singer, and performer. It then peeled back everything that was extraneous and permitted Barbra's full talent to shine. David is already developing a growing sense of what "works for me" and is starting to experiment.
David's stripped-down, entirely acoustic concert in Louisville, KY on August 5, 2009 was David's first major foray into breaking the rules. David dispensed with the flashy rock-god entrance, and walked in with the rest of the band to set-up for the show. The entire set was acoustic, and the songs were mellowed down in order better to focus on David's voice. During at least one song, David was accompanied only by an acoustic bass. Everything meant that the spotlight, musically, fell on him and him alone. David himself said that he liked doing the concert this way because it meant he did not have to focus on "performing" and could just focus on the music. He was at ease, smiling and laughing. Although not recorded, David's Louisville concert left an indelible impression on all of his fans, including those that never had the privilege to hear a single note.
This is only the most remarkable instance of David's readiness to disregard the rules and strip things down in order better to connect with his music, a happy consequence of which is the showcasing of his instrument. Nearly every change-up David has made has gone in this direction, whether it has been to strip down the instrumentation ("Apologize," "Desperate," or "Crazy"), or to sing entirely in a cappella (his Christmas songs during the Jingle Balls, "Angels," "Como La Flor," "Prayer for the Children").
This tradition goes back even farther, such as to his early YouTube performance of "A Thousand Miles." Some of his standout American Idol performances were remarkable precisely because they were stripped down to only a few musical instruments (guitar in "Imagine," bass and bongo drums in "Stand By Me," and piano in "Love Me Tender").
This is not the only context in which David shines. Don't forget the pulse-pounding club king ("Zero Gravity"). Oh, and that rock belter who made a guest appearance with REO Speedwagon. These adventures outside the familiar R&B/pop territory of David's debut album are what have elicited the most passionate response from fans. What is consistent among these different routes is that David loves them all. And as it so happens, none of these directions is one in which any male teen star has ventured in recent memory, let alone in combination.
So only one thing is for sure as to how David will make his full musical and cultural impact: it will be a way that is new and entirely suited to him. This is part of why it has been so difficult—both for David's management and for his fans—to map out a "path" for David. That path is uncharted.
My Name Is Barbra does not provide a model to be copied verbatim. First, with a talent as unique as David's, the manner of showcasing that talent must also be unique. Second, Barbra was already established at the time, having already had four best-selling albums, the enthusiastic support of New York music critics, and the cover of Time, and therefore was in the position to convince a network to take such a risk. My Name Is Barbra also arguably had an easier time making a broad impact because of the time period: it aired when a single network could draw in the majority of all TV viewers, and commercial practices had not yet compromised the integrity of much of artistic presentation.
target="_blank">
Still, My Name Is Barbra serves as a reference point, as a previous triumph, as an example of the power of tailoring a presentation to showcase one's strengths. It does not give all the answers, but it does make us ask the right questions. Does David shine when instruments hold back so we can focus on his voice? Okay, so let's give him a microphone, tone down the band, point a camera at him, and let him do wonders. Does David seem most comfortable interacting with fans? Alright, let's put him in a setting with some of his most devoted fans. Does he want to have Ashlee on board to do a duet? Or Lupe? No problem. Whatever makes you most at ease, David, so you can relax, smile, and enjoy what you're doing. Choose the songs that move you: you are at your most powerful when you are at your most vulnerable. And if something feels right to you, then it probably is.
One could argue that David had a moment to shine with "Imagine" on American Idol. This was true. However, David soon got sublimated under the machinations and drama of AI. It never really was about David. For many people, it was still largely one event within the context of a larger competition. At the end of the day, to much of the world David was still a reality TV contestant. David still has yet to fulfill what he feels is his personal mission of sharing his music with the world.
As for what it might take to no longer be seen as a TV show contestant and finally become known simply as "David Archuleta"—this might be as simple as giving him a microphone on a national stage and letting him sing a song he truly and deeply loves, done the way he feels is right.
Here is the target="_blank">final act of My Name Is Barbra, of Barbra giving a concert to a live studio audience. If you have not seen this before, you are in for a treat. Set aside 15 minutes, let her take you where she's going, and think of what the segment accomplishes and how. Let it fuel your imagination as to what might lie in the future for David.
Even true greatness needs the right stage. For David, that stage has yet to be built.
– ronaldsf